InShot is a free app for editing videos and photos for both Android and iOS devices. You can use it to trim, merge, split, change aspect ratio and do much more. With this application, you can use basic or advanced tools to edit videos. This guide will walk you through various video editing methods in the app so that you know how to edit your videos exactly as you want them. Get started right now!
My Personal Experience to Edit Video Using Inshot App
I personally use the inshot app to create a video.
InShot is a video editing app available to download on iOS and the Google Play Stores that helps you make your videos stand out. You don't even have to be an app pro to get things looking good with this one!
InShot is an application that enables you to create a video with a mixture of images and clips. Here's a quick lesson on how to use InShot:
How to create a video using your phone: A Quick Guide
You can make a video using your android phone via inshot app. so here I am sharing a quick guide with you to making a video. So let's start
#1 Download the App
There are two types of inshot app one is "Free" and "Paid" I choose the paid version. So you can easily download the app from the Google play store and getinshotproapk.
Note: in the pro version, you can remove the watermark. And get amazing video effects like cinema
#2 Start Project
When you open app the three options are displayed one is Video, Photo, and College
Video: in this option, you can create and edit video via multiple effects
Photo: in this option, you can edit photos via amazing font and background
College: you can create both video and photo on voice etc.
Import Photo and Video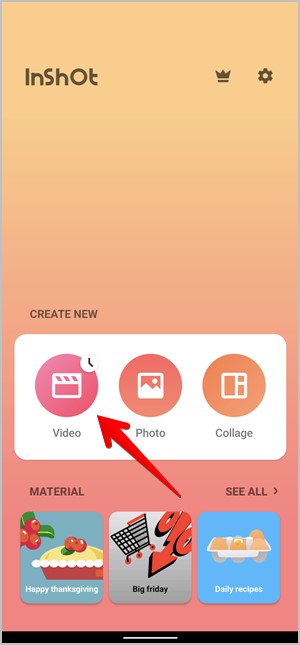 Open the InShot app on your phone. You will be greeted by the home screen where you will see options for Video, Photo, and Collage which is where you want to go if you want to edit videos! Once inside choose Video.
Once you tap on the Video screen, press the + icon to create or edit a new video. If you have already edited a video here in InShot, it will appear here as a draft. Tap on + to see it, then choose between editing it further or opening it up to an editor like your Camera Roll so you can use another app's effects!
To start creating a video, you can either choose your photos and videos from your Roll, Albums, or Photo Library. With all the images selected, tap on Use as video clip at the top right of the screen. If you want to create a new blank video, just select Blank.
Note: The Clock icon on the Video option means that you have pending drafts.
Position of Clips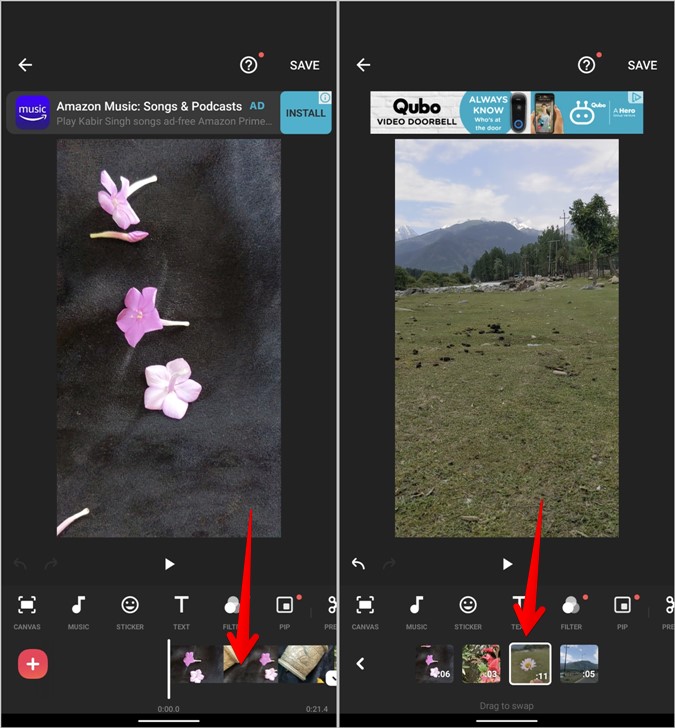 The clips are arranged on the timeline in the order they were added to the video. However, you can easily change their position whenever you would like. Simply touch and hold any video clip in the timeline to enter the rearranging mode and then drag it over to a new location.
Zoom Option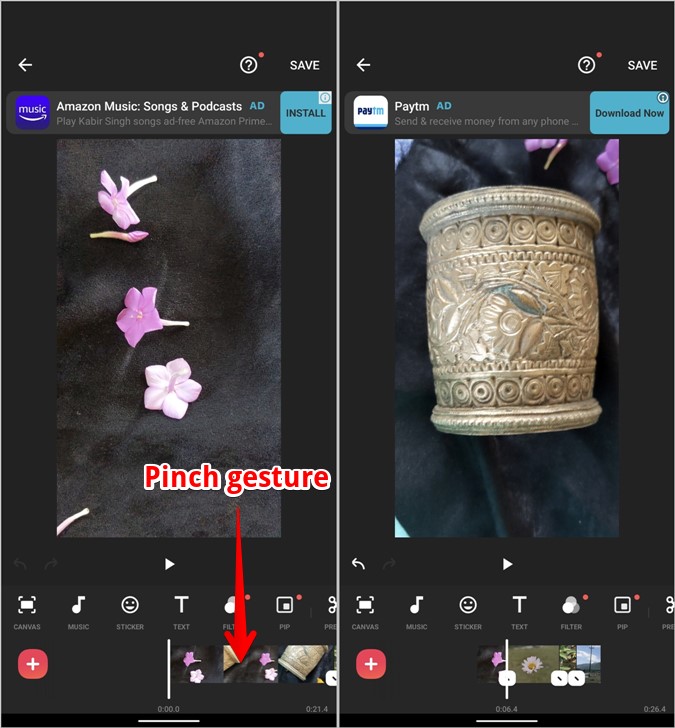 When it comes to digital video, we all have a lot to learn. The pinch in and out gesture is just one of the many ways you can take advantage of video editing. It lets viewers see how large or small an image is going to be before they even hit play.
Delete Video Clip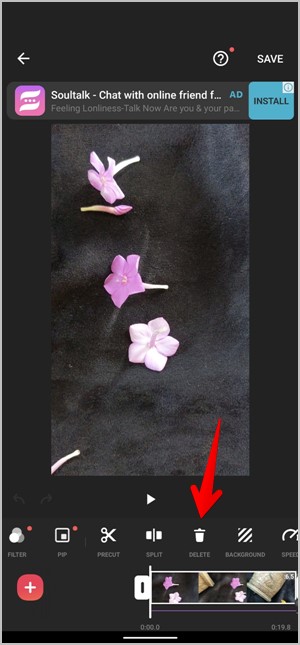 To delete a specific video clip in your video, tap on the clip to select it. You will see a white border around it. Then tap on the Delete tool in the toolbar at the bottom of your screen.
Use Effects
When you are applying a visual effect to one of your clips, the change will be applied permanently if you hit the single checkmark icon only but if you want to apply that effect or edit to all other clips as well, then you have to press on the double checkmark icon instead.
Easily Change Video Size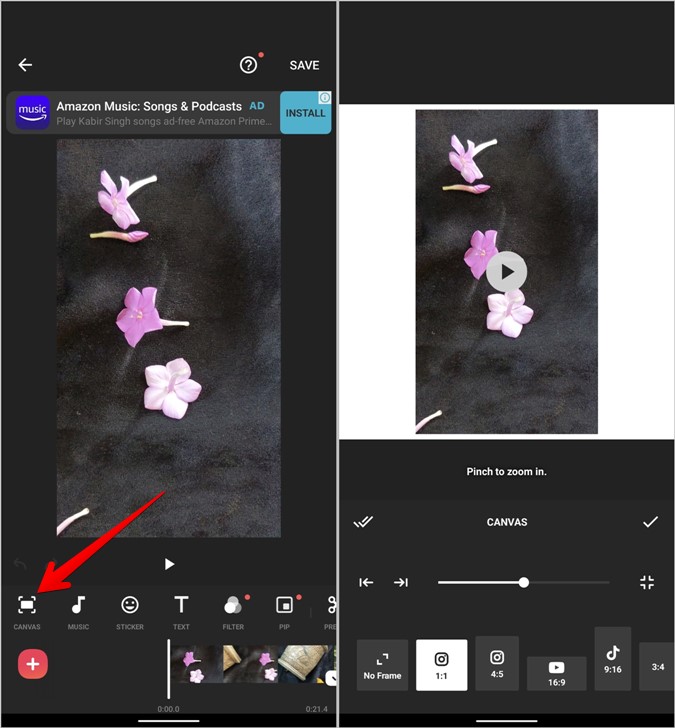 Your phone's camera most likely operates in either portrait or landscape mode. In the same way, different video capturing apps work in either a horizontal or vertical capacity. So what happens if you need to share a video that doesn't fit within one specific frame? The most likely option for posting it is making some adjustments like cropping, adding borders, and then reposting it. However, there's also another option: just go into the app that produced the video and change its canvas size!
In inshot video editor, select the Canvas option to select the video size as per your requirement.
Background Change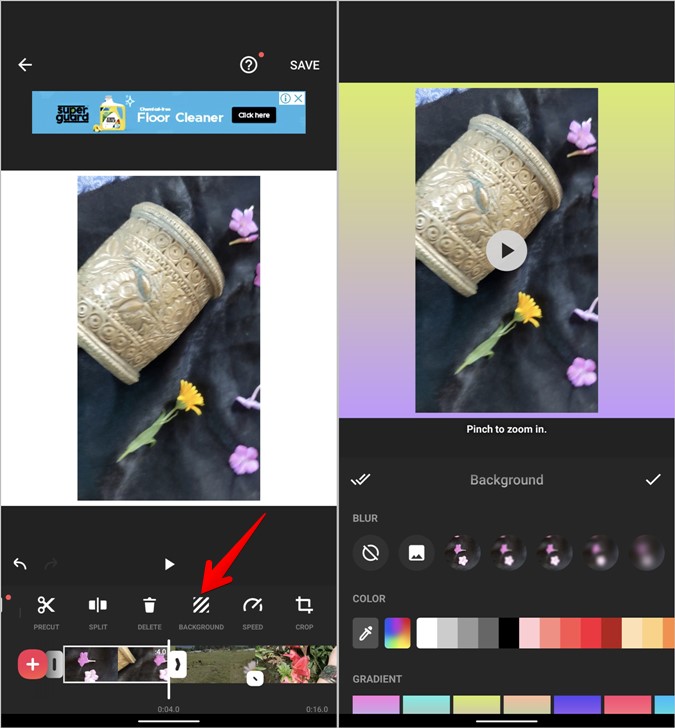 If your video has white background due to the change in aspect ratio from one camera mode to another, you can color the background or blur it. To do this, on Android you can select the Background tool in the toolbar and then choose between color or a blur effect. On iOS devices, there is no option to select colors but only between different ways of blurring: Gaussian Blur, Motion Blur & Zoom Blur.
Crop Option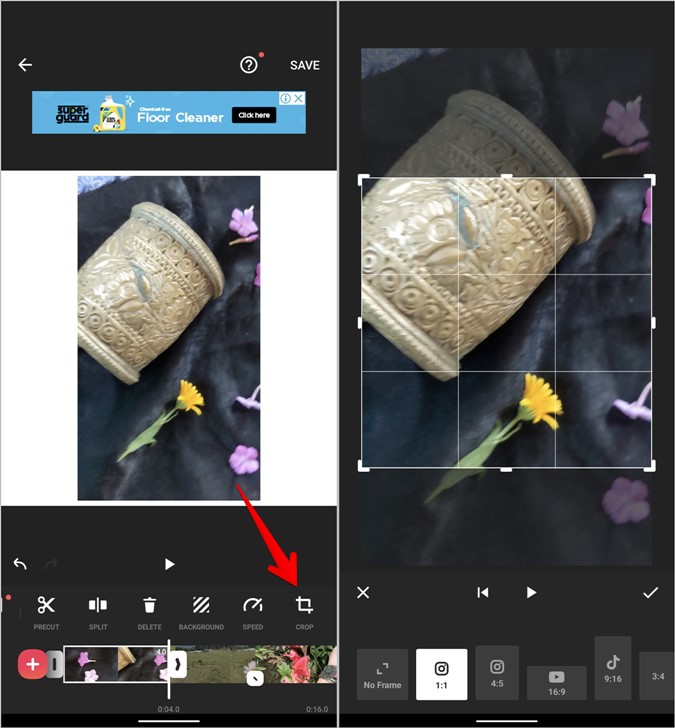 Video makers can cut off the unnecessary parts of their videos using the specified size options. Tap on Crop and draw a selection box to keep what you want in the video and crop out what is not needed.
Add Audio & Music to Video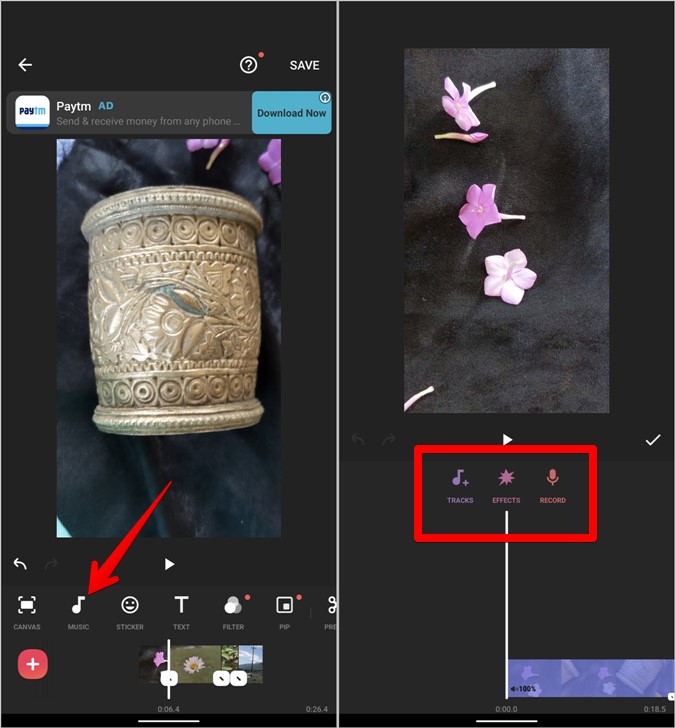 Inshot has multiple ways to add music to the video. Inshot has its own music library choose the music and add on your video. You can also add your desired music to inshot library which has built-in features. Tap on the Music tool in the toolbar to go to the audio screen. Tap on the desired option from Tracks, Effects, or Record and add the sound to your video.
Extract Audio from Video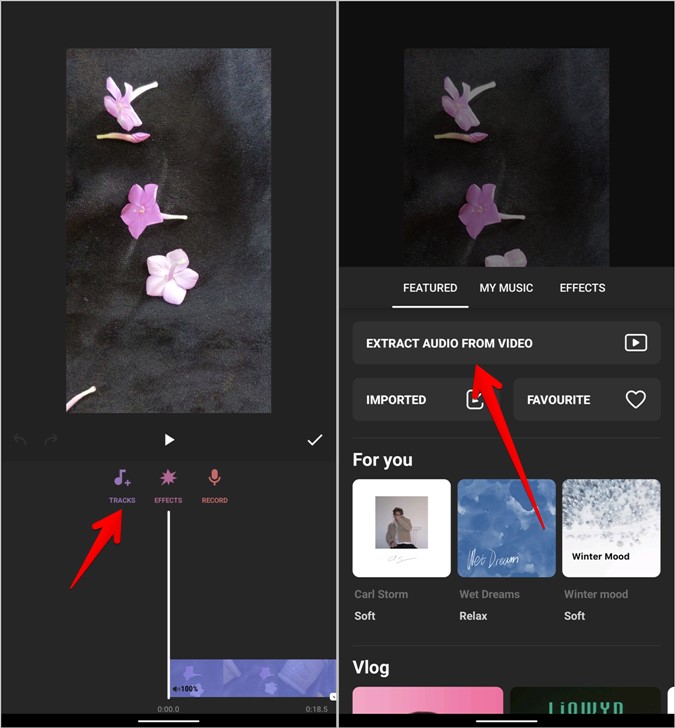 InShot also lets you extract audio from any video on your phone and use it in the current video. For example: if you wanted to use audio from a YouTube video you posted on Instagram Stories, Go to the Tracks option inside Music and tap on the Extract audio from video option. Select the video file.
Remove Voice from Video
To remove audio from your video go to the volume tool in the toolbar and decrease the volume to the minimum, tap on the double-check mark icon to remove audio from all clips. You can also change volume or remove it completely from the music tool as well.
Add Sticker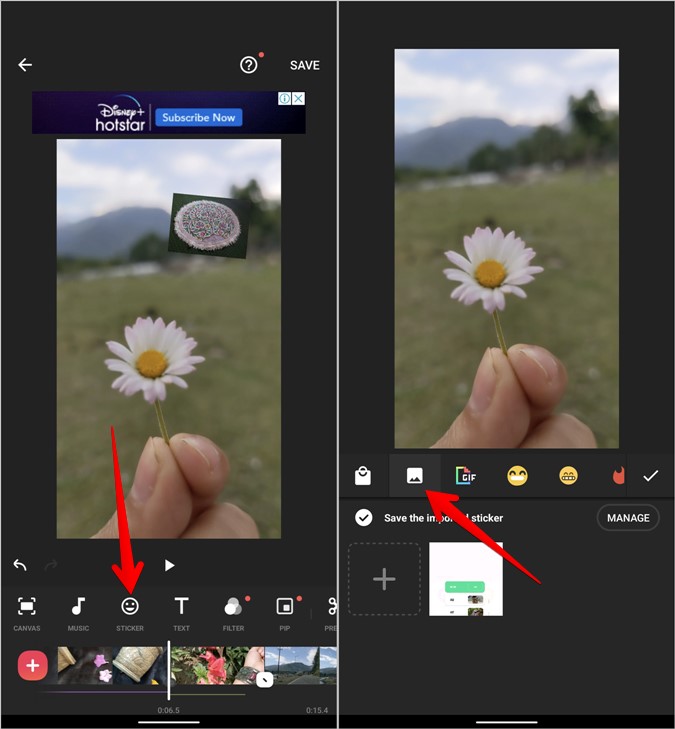 Use stickers to add a bit of fun and personality to your video. You can use the stickers to feature highly emotive images or to add notes or characters. There are two ways you can add stickers. The first one is by tapping on the sticker icon at the bottom. In it, you can browse through different kinds of stickers with varying emotions as well as colors, such as green, blue, red, and yellow. Once you've figured out which sticker you want to use, just tap on it to use it. -The other option is by taking a photo of an item then adding emojis and other stickers over it
Customize Text, Style & Color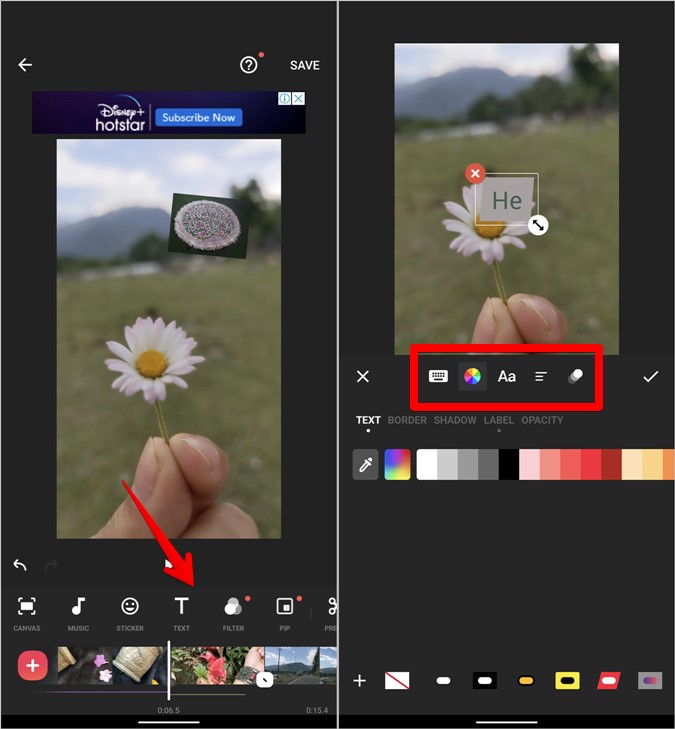 You can customize the text in your video much like you customize the text on a word processor. Click the Text tool to add and edit text. You can give it a font, size, color, alignment, and opacity as well.
Add Filters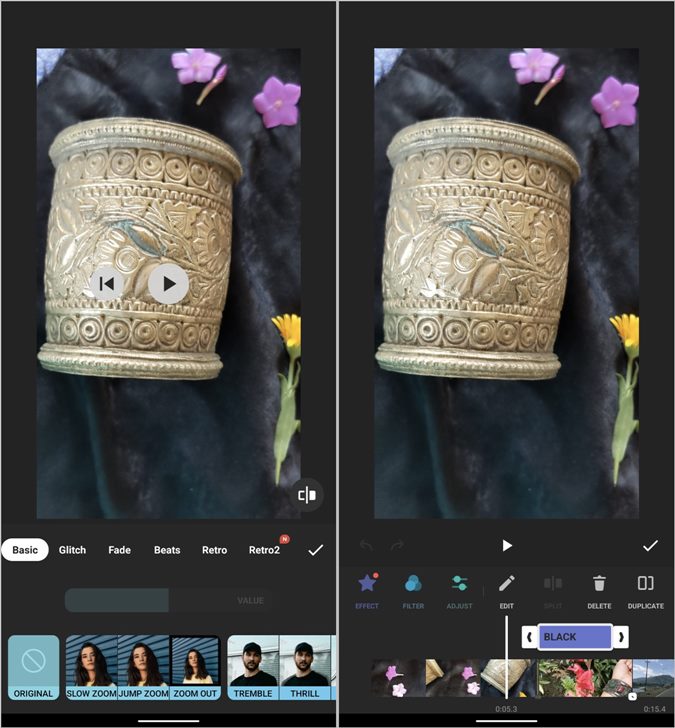 Tap the Filters icon to work with filters. Additionally, you can use the following tools: Auto Levels, Saturation, Contrast, Brightness, and Vignette. Use their sliders to adjust your photo's brightness, contrast, and shadows, or add a vignette to focus on a specific section of the photo. For example, when taking a portrait photo of someone's face you can darken everything around them making them really stand out more in the shot. Don't be afraid to really push it up as sometimes it can make for some pretty cool results. All effects have an adjustable slider that allows you to fine-tune your adjustments further if needed.
Add Multiple Frame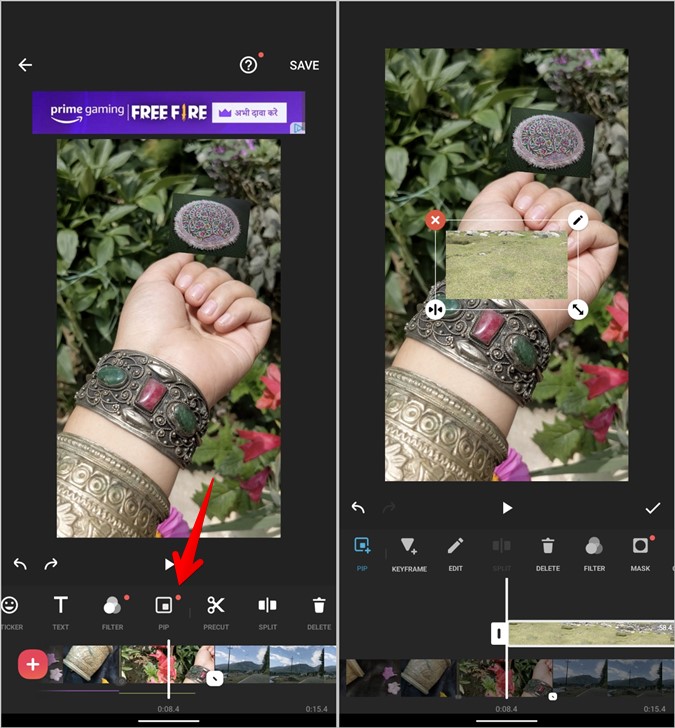 Using the PIP tool, you can play multiple clips in one single frame, like a video collage. Hit the PIP icon on your screen, and then browse through your filmstrip of all the clips you've imported from your camera roll. Tap on specific clips that you want to layer over one another, and presto – you now have some video collage magic going on!
Trim, Cut & Split Video
The Trim Editor works to simply remove unwanted parts of your video. You can scrub through your video, and press the dots marked by "start" and "end" respectively when you find something that needs to be deleted.
The Cut tool removes content in the middle of your videos, keeping only the beginning or end. To cut a video into two parts, create two separate cuts then move one of them over the other.
Using Split, you can create multiple clips from one video to use in different social media posts or other marketing materials.
Video Speed, & Rotate
Use these tools to rotate the video, flip it, or increase or decrease its speed – however, remember to un-split a portion if you want to use these editing features on only part of the video.
Watermark Remove
To remove the watermark from your video, tap on it and enjoy the video advertisement which will allow you to remove the watermark with no need for a pro account.
Save and Finish Video
When you are finished editing your video, give it a title and description, then save the work. Select the resolution and frame rate you want the video to be recorded at. Tap Save Video and your video will be saved in your Gallery for future viewing.
Conclusion
In this article, we've covered how you can use the Inshot video editing tool to make engaging videos. Once you have mastered it you'll be able to use Inshot to edit videos for social media, such as YouTube videos or Instagram reels. Or even create unique content with pictures and video clips. The possibilities are endless!